"My heart is numb, there is no other way to put it. He was my dad," Jamichael Baldwin said.
Jamichael Baldwin had the unimaginably hard task of sharing news to his Twitter followers late Saturday afternoon that his beloved father and head football coach of the Rockdale County Bulldogs, Jamie Baldwin had passed away unexpectedly earlier in the day.
The tragic news didn't take long to circulate throughout the community and Rockdale athletic director Chad Suddeth, like many, had a very difficult time processing the news that no one expected to hear.
"I was completely shocked," Suddeth said. "I got the phone call Saturday morning and was taken aback. It's been an incredibly emotional time for all of us. Today is a little bit better than yesterday, but it's going to take quite a while to get over this one."
Baldwin recently celebrated his 45th birthday in April and was in the midst of gearing up for his third season as head coach of the Bulldogs this fall.
Originally hired as the Bulldogs' defensive coordinator in 2016, Suddeth arrived at Rockdale just after Baldwin's arrival. It didn't take long for the two to form a tight bond.
"He would always call me bossman and I would always call him captain," Suddeth said. "When he and I sat down just to chitchat, we had a lot of talks that were not football related. He was always asking about my kids and was always telling me about how his kids were doing. He loved his children and he loved his players."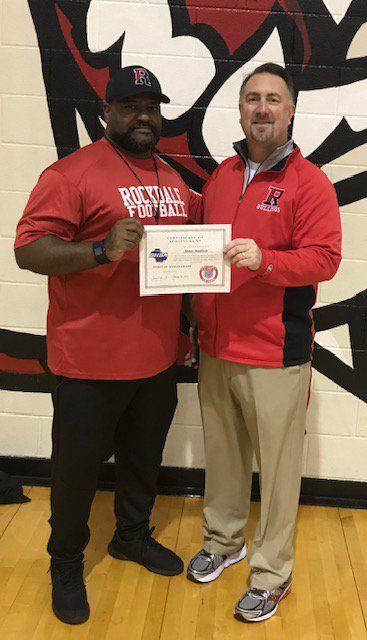 Both of Baldwin's sons played at Rockdale during Baldwin's tenure. Jamichael graduated in 2017. His youngest son Kaleb played both his freshman and sophomore seasons under his father's head coaching tenure in 2018 and 2019.
For Jamichael, who went on to play two seasons at Savannah State before transferring to play at North Carolina A&T, the game of football was what brought him closer to his father.
"Football is what brought us together," Jamichael said. "My dad and I spend hours at Lake Mayer. He taught everything about the game. I was with him at every practice and I cried when I couldn't go to his away games. I was a ball boy at every high school he went to."
Baldwin was hired by Suddeth as the school's head football coach in 2018. After working alongside of him for two years and getting to know him as both a coach and as a man, Suddeth said it was a no-brainer to hand him the keys to the program.
"The thing that stood out to me and one reason we went with him to be our head coach was his humility," Suddeth said. "He was an incredibly humble man and that led to his overall composure. He would never blink when adverse conditions presented themselves. It didn't matter what the situation, he was so composed and always in control. That was what was most impressive. That working relationship turned into a close, personal friendship over the years."
Baldwin built tight relationships with almost everyone he came in contact with. From his days in the United States military in the 1990s, to his days as both a defensive coordinator at Beach High School and head coach at Johnson High School in Savannah in the 2000's, his ability to connect with people was unmatched.
Former Rockdale head football coach Greg Manior was the man responsible for bringing Baldwin to Conyers as his defensive coordinator. Manior's relationship with Baldwin began several years back in Savannah, but it grew into something much more special when the two arrived at Rockdale together in 2016.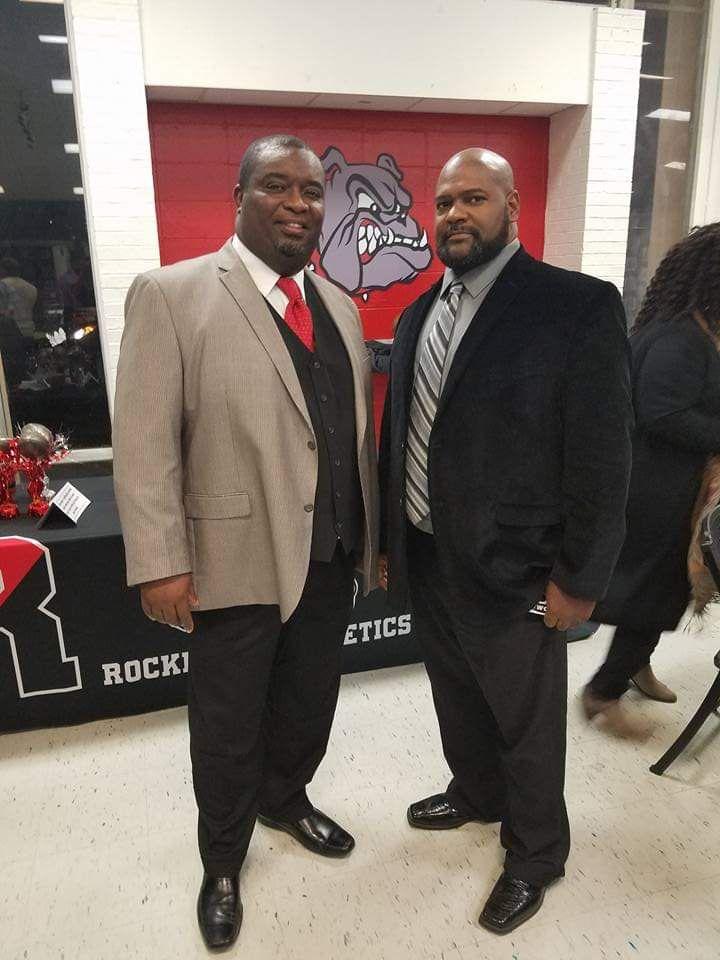 "Once we got to Rockdale, we were kind of like the new kids on the block," Manior said. "We were in the same department, so we saw each other every day. We ate lunch together every day and we planned football every day. We got our families together on occasion. We fellowshiped together, ate together and went out together. We pretty much did everything together."
Manior left Rockdale after two seasons but that didn't stop their friendship. The two chatted on the phone when they could and even traveled together to several coaches clinics, including one last December, the last time the two saw each other.
"I'm still in shock, really," Manior said. "It hit pretty hard. I didn't really get the chance to talk to him as much as I would have liked, but it's been a big shock to all of us. Jamie touched a lot of people's lives, so it was very heartbreaking for all of us."
Manior said he and Baldwin had hoped to plan a fishing trip to south Georgia soon and spend some quality time together.
Following Baldwin's sudden passing, Manior said he's been looking back on the good times the two shared at Rockdale.
"He always knew how to make me laugh and make me smile," Manior said. "Even in the toughest situations on the sidelines or everyday in the office. He made me realize that you need to have fun in everything that you're doing. There's a time to be serious, but you have to remember to have fun because life is too short."
Justin Steele was Baldwin's starting quarterback when he took over the job in 2018. Steele, like many of his former teammates, had a hard time grasping the news.
"It came out of nowhere," Steele said. "He was more than just a coach. It wasn't always about sports. He cared more about the man you were going to be after sports and the life you wanted to live. He was a father figure more than anything. Losing somebody close to you is never easy. It's going to be weird going back to visit and him not being there. It's going to be something everyone has to adjust to."
Baldwin also coached Steele in track and field. He served as the school's head track and field coach for the past four seasons and helped Steele earn both a football and track and field scholarship to Johnson C. Smith University.
"He was one of the best head coaches I ever had," Steele said. "I'm thankful for him because without him and coach (Everett) Nichols, I don't know where I would be, honestly. They kept my head straight and believed in me more than I believed in myself and I thank them for that. It's crazy that I'll never get to talk to him again."
The passing of Baldwin will be one the Rockdale community will feel for years to come, not only for the culture he was able to bring, but for always holding his players to a higher standard and expecting the best out of them.
"He was a great role model," Suddeth said. "He understood that it was much more than X's and O's. He understood that coaches have a higher calling. He certainly fit that mold in teaching character, work ethic, sportsmanship and respect. That's much more important to him than the end result. He was just a great leader of men. He loved his children and he loved his players. He was just the best."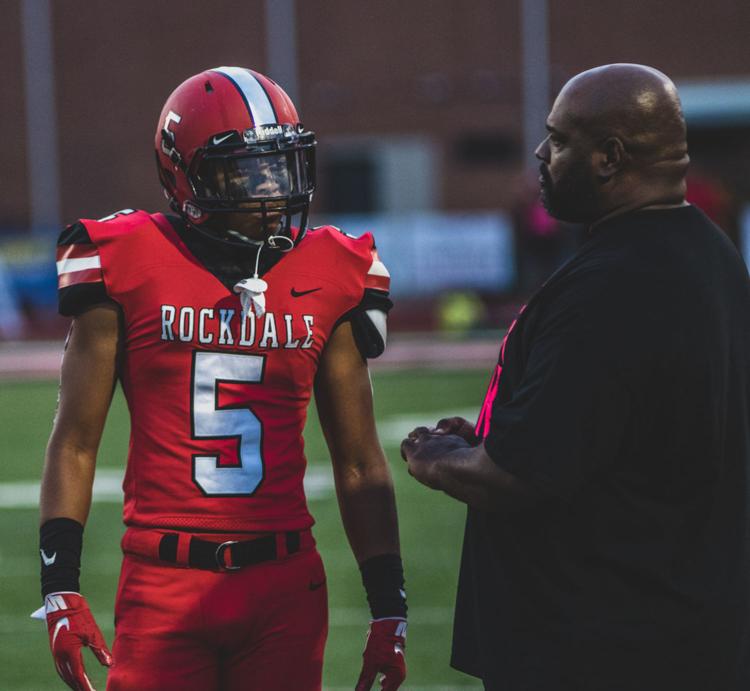 When asked what Jamichael wants his father's legacy as a coach to be, he said his father is already well on his way to creating one.
"He set out his own legacy," Jamichael said. "He touched so many people. But one reason why I say he laid out his legacy is because of his character. He always wanted better for his players and for his children. That man never wore his feelings on his sleeves and never complained when things got hard. He just kept chucking away."
He is survived by two sons: JaMicheal and Kaleb; one daughter: Kaitlyn; four brothers: Sylvester, Sherwood, Delvin, and Jeremie (his twin) and three sisters: Annie Deloise, Linda, and Pamela. His parents and two siblings predeceased him.